Bell Mountain Wilderness Area
Untouched pieces of American soil
Come and enjoy the pristine wilderness of Bell Mountain. Wilderness Areas are the most untouched pieces of American soil. This hike is best for experienced hikers only as navigational tools are recommended and there are no sources for supplies or water in the area.
There are 12 miles of trail in Bell Mountain Wilderness, and it also includes a section of the Ozark Trail. These trails blaze through old growth forests which include species like Oak, Elm, Hickory, and Pine. The granite, felsite, and rhyolite outcroppings and grasslands add a characteristic charm that brings out the beauty of this natural area.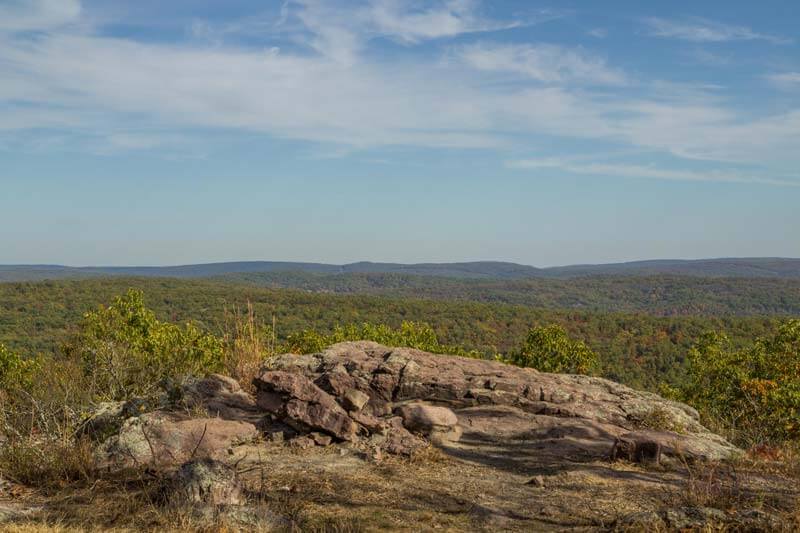 Elevations range from 1,702 feet above sea level to 907 feet above sea level in Bell Mountain's lowest point, Joe's Creek Drainage. Although there are a few creeks that flow through the area such as Shut-Ins Creek and Joe's Creek, they are not recommended for gathering drinking water.
Registration is required
Because of the steep cliffs and difficult navigation of the trails, registration is required before embarking on your adventure. It is requested that group hikes are limited to a maximum of 10 people to preserve the pristine wilderness of the area.
Old growth forest species
This unique habitat area lends itself to old growth forest species including but not limited to pileated woodpeckers, wood thrush, and oven birds. White tailed deer, wild turkey, and squirrels can also be found in moderate populations.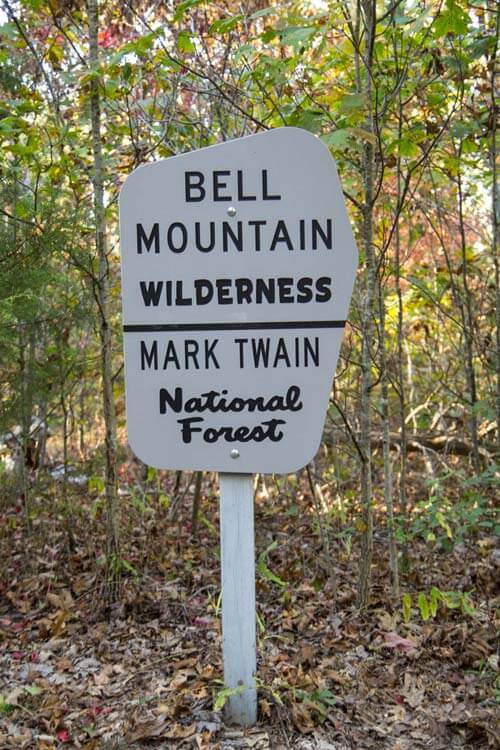 Be prepared before beginning your journey
Again, be prepared before beginning your journey. Pack your own shelter and please do not setup camp within 100 feet of a trail, campsite, or waterway. Bring a map and compass. Trails are not well marked and seasonal visibility of the markings are limited. Use of blazes, ribbons, or other self-supplied trail markers are strongly discouraged. Bring all of the water and food supplies you will need for your excursion. Please do not bring your own firewood as it can bring in pests that can devastate the old growth forest.
Tips for the trip
During your trip, please only build campfires when necessary and make sure that all fires are extinguished completely before leaving the localized area. Keep all dogs on leash or under control, and remember that saddled animals and stock have the right of way on all trails.
Are you ready for an adventure?
Are you ready for an adventure in the middle of this expansive pristine wilderness area? From Ironton, Missouri, head east on Russell Street toward S Knob Street for 0.2 miles. Turn Left on MO-21 N and follow it for 4.8 miles before turning left and continuing on MO-21 N for another 6.8 miles. Then, turn Left onto MO-32 W. After 7.2 miles, you will take a slight Left onto State Highway A and follow this road for 0.5 miles before turning Left onto CC Rd. After 1.9 miles, take a slight Right onto Co Rd 2936 and follow it for another 1.7 miles. Turn Right onto Co Rd 61A and you will arrive at Bell Mountain Wilderness in 364 feet.